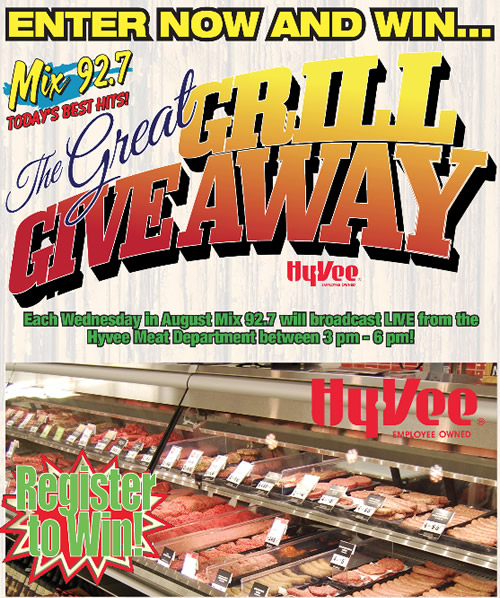 NOW WE'RE COOKIN'!
LET'S TURN UP THE HEAT AND MAKE YOU A WINNER!
Each Wednesday in August Mix 92.7 will broadcast LIVE from the Hyvee Meat Department between 3-6. Listeners will have a chance to register to win a new gas grill each week while shopping for special savings in the meat department. We'll give away 4 grills in all.
Contest starts August 9th!
JOIN COOL 102.7 AT THESE UPCOMING EVENTS
SHAWNEE BLUFF WINERY SOLAR ECLIPSE PARTY - AUGUST 21, 2017


Join us from Noon to 3:00 PM at Shawnee Bluff Winery for the best viewing party around! Sponsored by Mix 92.7, Classic Hits Cool 102.7, and KS-95 LIVE. Bring eclipse glasses or glasses will be provided. Enjoy wine and appetizer specials, giveaways and door prizes.
DOWNLOAD POSTER | LEARN MORE ABOUT THE SOLAR ECLIPSE

16TH ANNUAL CADV BRUNCH - OCTOBER 18, 2017
Time: 11:00 a.m.—1:00 p.m.
Location: The Lodge of Four Seasons, Campana Hall
Theme: Favorite Sports Team

Join us for brunch with over 25 of the Lake Area's top restaurants, in support of Citizens Against Domestic Violence! Call 573-346-9630 for more information on sponsorships, table hostesses, restaurant participation, or attendance! Tickets only $20!
DOWNLOAD FLYER | DOWNLOAD SPONSORSHIP FORM

2017 DRIVE IT HOME RAFFLE
Go the distance with our Drive it Home Raffle Every one of Special Olympics Missouri athletes strives to go the distance for a WIN! You can be a WINNER by supporting them through our Drive it Home Raffle. Our partner, Missouri Automobile Dealers Association is generously donating a 2017 Honda Pilot this year. Proceeds benefit Special Olympics Missouri's year-round program of sports training and competition for children and adults with intellectual disabilities.
VISIT WEBSITE | BUY TICKETS DIRECTLY


2017 LAKE OF THE OZARKS BIKE NIGHTS - THIRD THURSDAY OF EACH MONTH


Join in the fun of a poker walk, bounce from each participating bar for your chance to win cash and to donate to Lake area Buddy Pack Programs to benefit lake area children. Register to win a customized Bobber!
DOWNLOAD FLYER | VISIT WEBSITE

LUCAS OIL SPEEDWAY
Dirt track racing is back at Lucas Oil Speedway. Listen to win tickets and register in person for a weekly ticket drawing. Stop by Precision Auto and Tire in Osage Beach and Ellis Battery in Camdenton. For the latest racing news check out Lucas Oil on Facebook or click thru from here to their website.
VISIT WEBSITE | VISIT FACEBOOK

ADDITIONAL 2017 EVENTS

LISTEN TO COOL 102.7 EACH FRIDAY NIGHT
FOR OSAGE INDIANS FOOTBALL!

2017 SCHEDULE

| | | |
| --- | --- | --- |
| 8/18/17 | 7:00 PM | @Fulton |
| 8/25/17 | 7:00 PM | Seneca |
| 9/1/17 | 7:00 PM | Hallsville |
| 9/8/17 | 7:00 PM | @Warsaw |
| 9/15/17 | 7:00 PM | @South Boone |
| 9/22/17 | 7:00 PM | @Versailles |
| 9/29/17 | 7:00 PM | Blair Oaks |
| 10/6/17 | 7:00 PM | @Eldon |
| 10/13/17 | 7:00 PM | California |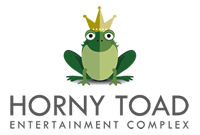 EVENT CALENDAR | BUY TICKETS
With Live Entertainment every weekend during the Summer, water front docking, indoor and outdoor bars, outdoor hottubs, and a swim-up bar, H.Toad's has all the right ingredients for the best party atmosphere at the Lake of the Ozarks.

VISIT WEBSITE | VISIT FACEBOOK